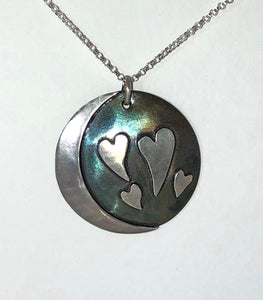 Handcrafted Sterling Silver and Argentium Silver Pendant.  Four Hand cut hearts and moon.
This pendant is hand cut without a template so the hearts be different every time.  Each pendant is unique.

Available in 1 1/8"  and 1 1/4"  There is a substantial size difference in the two sizes.
This pendant much be special ordered and will take time to make.  Please email Linda@SanitasDesigns.com to find out details.